About the Zoo
Wildlife HQ is home to native and exotic animals from around the world! We are located at the Iconic Big Pineapple on the Sunshine Coast QLD. The story of Wildlife HQ is akin to the story of Noah's Ark. Zoo owner, Julie Seabrook and her team of dedicated Keepers, undertook the mammoth task of moving 200 animals from Alma Park Zoo to their new home at Wildlife HQ. If you thought moving home was tough, try packing a herd of Indian Blackbuck, Red Pandas, troops of South American monkeys, a bearcat, and pack of dingos…Read More
Plan your visit
Keeper Talks
Meet the Keepers and learn something new about your favourite animals!
10:45am Spider Monkey Keeper Talk
11:45am Sun Bear Keeper Talk
12:45pm Hamadryas Baboon Keeper Talk
Zoo Café
Exciting New Cafe NOW OPEN!
You can now enjoy an immersive dining experience at Wildlife HQ with our critically endangered Cotton Top Tamarins, housed in a beautiful exhibit right next to you!
Next time you're at the zoo make sure you check out our brand new cafe and undercover eating facilities and accompanying Cotton Top Tamarin exhibit.
Cafe opening hours are from 9am until 2:30pm daily.
Enjoy a snack of fresh or toasted sandwiches, breadrolls, pies or some sweet treats to name a few. Why not also grab a delicious barista made coffee, ice coffee or frappe 'to go' whilst venturing around the Zoo. All dietary requirements are catered for.
We hope you enjoy our new unique dining experience!
Our History
Alma Zoo
When Alma Park Zoo closed in March 2014 to make way for a housing development in the area. Julie negotiated with owners of the Zoo to assume ownership of the animal collection. Julie and her Keepers established the new Wildlife HQ in Woombye to accommodate the 200 animals safely in their new permanent home at the Big Pineapple.
TV/Film Work With Wildlife HQ Animals
Did you know that many of our animals are available to be featured for Film and TV work? There is the option to film at Wildlife HQ or some animals can even be brought to offsite set locations. Recently Arlo, one of our Wildlife HQ koalas featured in an NRMA advertising package. Arlo was a star and helped raise awareness as well as $50 000 for Koala Conservation.
If you'd like more information on what we can offer, please email info@whqzoo.com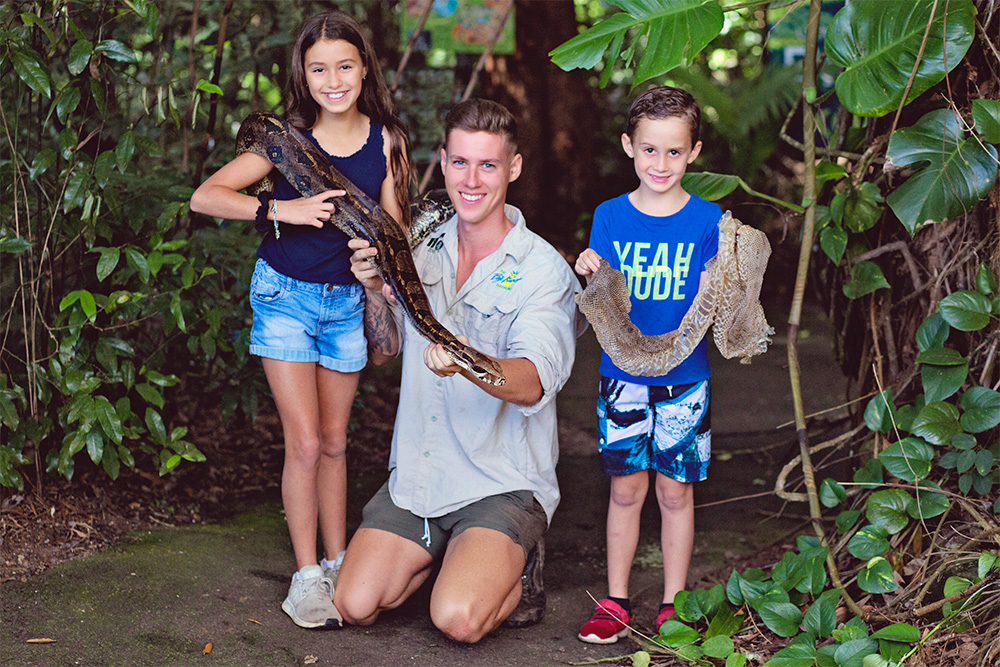 Zoo Keeper for a Day
Wildlife HQ Zoo offer a unique VIP experience for $449 per adult and $349 per child. The package includes an average of 6 up close and personal experiences and can be tailored to your interests – native or exotic animals. You will have a personalised tour of the animals you choose for your package, along with a keeper who can tell you all about the animals you are meeting. You are more than welcome to bring your own camera and our staff will help capture the experience. Or you can purchase photos taken by our staff member.
Email info@whqzoo.com to find out more information.
Whilst it was devastating to see Alma Park Zoo close after 45 years, keeping all the animals with their Keepers at the new Wildlife HQ was the best possible outcome.

For the animals with complex and multifaceted social relationships, maintaining their social bonds by staying together rather than being dispersed to other Zoo's was the best solution for their continued health and well being. This solution also provided Keepers with the opportunity to continue to develop the bonds they had established with animals they have worked with for a number of years.
The Big Pineapple
The move to the Big Pineapple was a win-win for both unique animals and talented people. Julie and the team at Wildlife HQ are now embarking on a new era.
We are focused on providing lifetime care for animals of Wildlife HQ whilst educating families and children about our environment and conservation.
Conservation
In July 2021 the team at Wildlife HQ were thrilled to achieve accreditation under the ZAA Accreditation Program.
The position of ZAA is that all zoos and aquariums have a responsibility to ensure a high standard of animal welfare for all animals in their care. Conservation, education, research and recreational goals of zoological organisations must be underpinned by positive animal welfare.
The Accreditation Program is an industry-specific approach to assessing animal welfare states for zoos and aquariums.
Learn More